Circular City + Living Systems Lab
June 15, 2020
CCLS Presents at the ACSA 108 Conference
CCLS presented two research papers at the ACSA 108 Virtual Conference, held online in mid-June 2020.
The conference consisted of online presentations and discussions, and gave authors the opportunity to engage with listeners through moderated panel discussions following pre-recorded presentations in topical sessions.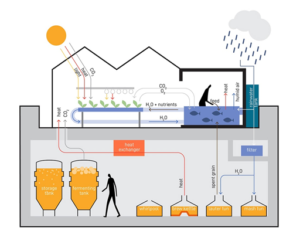 Prof. Gundula Proksch presented CITYFOOD in the TAD special focus session, and CCLS PhD student Erin Horn presented Building an Ecosystem: Integrating Rooftop Aquaponics with a Brewery to Advance the Circular Economy.